特價
Netgear Nighthawk MK62〈平玩 AX Mesh〉AX1800 – 2 件裝
描述
Netgear Nighthawk MK62〈平玩 AX Mesh〉AX1800 – 2 件裝 / AX Mesh Wi-Fi

官方介紹
ADVANCED WHOLE HOME WIFI
See how the new Nighthawk Mesh WiFi 6 System banishes dead zones and makes buffering a thing of the past. Get faster, more reliable WiFi coverage with easily placed satellites and experience the future of WiFi.
ADVANCED WHOLE HOME WIFI
With Nighthawk® Mesh WiFi 6 System you'll enjoy advanced whole home WiFi designed to deliver smooth video streaming and fast online gaming to more devices at the same time. Experience the next generation of WiFi 6, perfect for medium to large homes up to 3,000 sq.ft.† and internet speeds over 100Mbps.†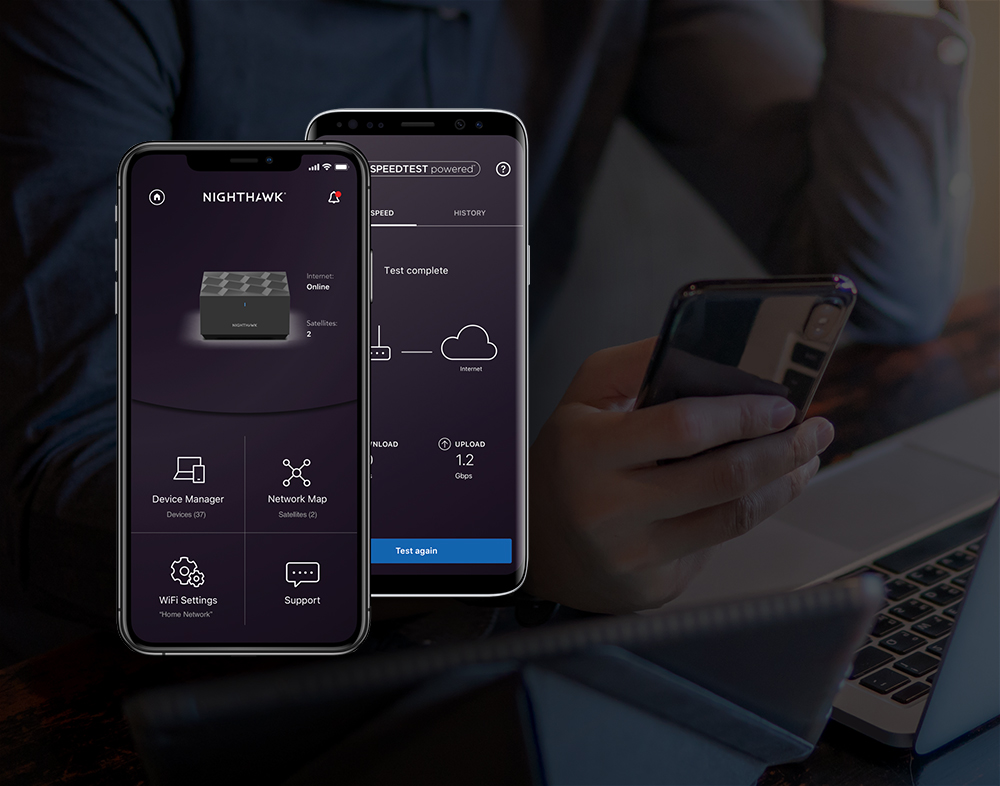 NIGHTHAWK® APP
Setup and control your home WiFi from the palm of your hand.
REMOTE MANAGEMENT — Easily monitor your home network anytime, anywhere.
INTERNET SPEED TEST — Check the broadband speeds from your service provider.
GUEST NETWORK — Set up separate WiFi access for guests.
QUICK SETUP — Get connected in just minutes.
Download the Nighthawk App on the Apple App Store or the Google Play Store.
EXPANDABLE
The sleek and compact design blends in with any decor and can be placed anywhere in the home. Easily incorporate more satellites to your systems to expand your coverage even further.
NIGHTHAWK MESH WIFI 6 IS PERFECT FOR
WHOLE HOME COVERAGE

Place satellites throughout your home so you can game in the basement or stream videos in the backyard without the buffering. Create a reliable WiFi network with coverage.

GAMING AND STREAMING

Get the ultimate experience with 4 Streams of WiFi 6 and speeds up to 1.8Gbps.† Enjoy smooth 4K UHD streaming & lag-free gaming in every room.

A GROWING SMART HOME

As you add more smart devices to your home—thermostats, lightbulbs, security cameras—you'll need WiFi that can handle it all. With WiFi 6, you get 4X more capacity so your smart home can keep running smoothly.
官方規格
TECH SPECS
WiFi Coverage

3,000 sq.ft
Uplink & Downlink OFDMA§—Improved capacity and efficiency

Nighthawk Mesh WiFi 6 Router

Simultaneous Dual-band WiFi 6 AX1800
4 High Performance Internal Antennas
Explicit Beamforming for 2.4GHz & 5GHz bands
MU-MIMO capable for simultaneous data streaming
Powerful Qual-Code 1.5GHz processor

AX1800 WiFi 6

Radio 1: IEEE® 802.11b/g/n/ax 2.4GHz–1024QAM support (600Mbps)
Radio 2: IEEE® 802.11a/n/ac/ax 5GHz-1024QAM support (1200Mbps)
Tx/Rx: 2×2 (2.4GHz) + 2×2 (5GHz)

Ports

One (1) WAN 10/100/1000Mbps Gigabit Ethernet port
One (1) LAN 10/100/1000Mbps Gigabit Ethernet port

Dimensions and Weight

Mesh WiFi 6 Router (MR60)

Dimensions: 4.8 x 4.8 x 2.5 in
Weight: 0.63lb
Memory

128MB Flash and 256MB RAM
WiFi EasyMesh™

Compatible with Wi-Fi CERTIFIED EasyMesh™ a standard that will bring added flexibility to consumers by enabling this mesh system to interoperate with other satellites or extenders that support the standard in the future.
What's in the box

One (1) Nighthawk Mesh WiFi 6 Router (MR60)
One (1) Nighthawk Mesh WiFi 6 Satellite (MS60)
One (1) 2m Ethernet cable
Two (2) 12V/1.5A power adapters
Quick start guide

Nighthawk Mesh WiFi 6 Satellite

Simultaneous Dual-band WiFi 6 AX1800
4 High Performance Internal Antennas
Explicit Beamforming for 2.4GHz & 5GHz bands
MU-MIMO capable for simultaneous data streaming
Powerful Qual-Code 1.5GHz processor

AX1800 WiFi 6

Radio 1: IEEE® 802.11b/g/n/ax 2.4GHz–1024QAM support (600Mbps)
Radio 2: IEEE® 802.11a/n/ac/ax 5GHz-1024QAM support (1200Mbps)
Tx/Rx: 2×2 (2.4GHz) + 2×2 (5GHz)

Ports

One (1) 10/100/1000Mbps Gigabit Ethernet port

Dimensions and Weight

Mesh WiFi 6 Satellites (MS60)

Dimensions: 4.8 x 4.8 x 2.5 in each
Weight: 0.63lb each