特價
Netgear Orbi RBK852 〈極速 AX Mesh〉AX6000 – 2件裝
採用新世代 Wi-Fi 6 制式的 Mesh Wi-Fi 網絡系統
提供 12-Stream 與 AX6000 等級 4X4 傳輸通道
具備 4 個 GbE 端口及 1 個 2.5Gbps WAN 端口 (僅 Orbi 主機路由器)
非常適合智能家居及小型商用等多連接設備的環境
支援 Google Assistant / Amazon Alexa 智能助理控制
同系列其他型號:
描述
Netgear Orbi RBK852 〈極速 AX Mesh〉AX6000 – 2件裝 / AX Mesh Wi-Fi

官方介紹
ABOUT: FAST WIFI
WiFi That's Faster Than Ever.
Do everything you already do online, but faster. Tri-band WiFi 6 systems help bring the fastest internet speeds available to all your devices. With total wireless speeds up to 6 Gbps, you get blazing fast WiFi to your smart TVs, smartphone, and gaming consoles.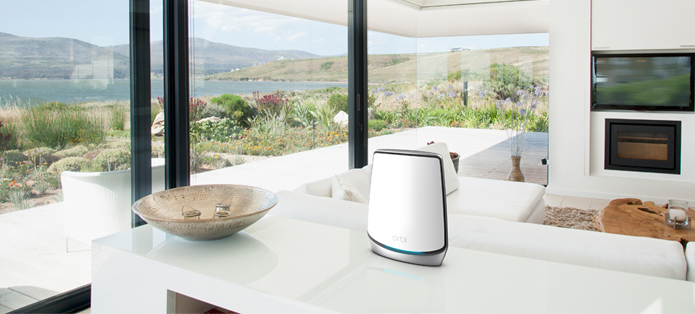 Coverage and Capacity
More capacity. More coverage.
The Orbi WiFi 6 System has 4x increased capacity and is equipped to handle 12 streams at once. Even with more than 100 devices connected to your network, you get the smoothest WiFi experience everywhere in your home.
Never Worry About WiFi Again.
More speed. More coverage. Orbi WiFi 6 uses NETGEAR's patented tri-band mesh technology with a patented dedicated backhaul to provide the ultimate smart home experience with seamless roaming.

Orbi App
Do more with your home's WiFi.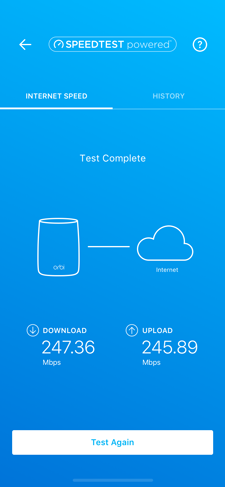 官方規格
Tech Specs
WiFi Coverage

Orbi Router (AX6000)

Eight (8) high performance internal antennas with high-powered amplifiers

Implicit & Explicit Beamforming for 2.4GHz & 5GHz bandsMU-MIMO capable for simultaneous data streaming to multiple devices

Powerful Quad-Core 2.2 GHz processor

AX6000 Tri-Band WiFi

2.4GHz (1200Mbps†) + 5GHz (2400Mbps†) for WiFi devices to connect to the Internet5GHz (2400Mbps†) dedicated WiFi link for faster data connections between Orbi Router and Orbi Satellite

Dimensions & Weight

Dimensions

10 x 2.8 x 7.5in

Ports

A 2.5 Gbps WAN port and 4 LAN Gigabit Ethernet ports

Memory

Router: 512MB NAND Flash and 1GB RAM
Security

Standards-based WiFi Security (802.11i, 128-bit AES encryption with PSK)

Guest WiFi Network is easy to setup separate & secure Internet access for guests

What's in the box

One (1) Orbi Router (RBR850)

One (1) Orbi Satellite (RBS850)

One (1) 2m Ethernet cable

Two (2) 12V/3.5A power adapters

Quick start guide

Orbi Satellite (AX6000)

Eight (8) high performance internal antennas with high-powered amplifiers

Implicit & Explicit Beamforming for 2.4GHz & 5GHz bands

MU-MIMO capable for simultaneous data streaming to multiple devices

Powerful Quad-Core 2.2GHz processor

AX6000 Tri-Band WiFi

2.4GHz (1200Mbps†) + 5GHz (2400Mbps†) for WiFi devices to connect to the Internet5GHz (2400Mbps†) dedicated WiFi link for faster data connections between Orbi Router and Orbi Satellite

Ports

4 LAN Gigabit Ethernet ports