特價
Netgear Orbi RBK752 〈三頻 AX Mesh〉AX4200 – 2件裝
新一代 Orbi Wi-Fi 6 三頻 Mesh Wi-Fi 網絡系統,支援最新主流 802.11ax 制式技術,無線網絡頻寬高達 4.2Gbps(AX4200),三頻信號提供 8-Stream 與專用節點傳輸通道,非常適合家庭及小型商用等多連接設備的環境。
描述
Netgear Orbi RBK752 〈三頻 AX Mesh〉AX4200 – 2件裝 / AX Mesh Wi-Fi
官方介紹
Robust Performance Whole Home Mesh WiFi System – Covers large homes up to 5,000 sq. ft with fast WiFi. System includes a WiFi router and one satellite.
Powerful AX Mesh WiFi System – Keeps all your connections strong in every room, all the time. Enjoy 4K/8K UHD streaming and online gaming to multiple screens simultaneously without interruption.
WiFi 6 Brings Capacity Beyond Belief – Latest generation WiFi 6 technology is faster than ever, with 4X increased capacity compared to a WiFi 5 (802.11ac) system. Even with 40 or more devices, WiFi 6 supports your devices' connections for today and tomorrow.
Seamless and Consistent Mesh WiFi Coverage – From front door to backyard and in every corner of your home. A dedicated quad-stream WiFi 6 backhaul allows consistent gigabit throughput throughout your home.
Built for the Gigabit Internet Speeds Everywhere † – Innovative Tri-band WiFi helps maximize the internet speeds available in your home to every device
Gigabit Internet – 1Gbps Ethernet port support gigabit Internet speeds available from service providers.
NETGEAR Armor™ – Best-in-class anti-virus and data theft protection for ALL of your smartphones and computers. Protects your connected home from internet threats.
Easy to Set Up and Use – Simple setup and WiFi management with the Orbi app. Create a guest network, view connected devices, and perform speed tests.
Connect More Wired Devices – One WAN + three LAN ports on the router and two LAN ports on the satellite are ideal for connecting more devices around your home.
Works with Amazon Alexa and the Google Assistant so you can use voice commands to control your home WiFi network.
ABOUT: FAST WIFI
WiFi That's Faster Than Ever.
Do everything you already do online, but faster. Tri-band WiFi 6 systems help bring the fastest Internet speeds available to all your devices. With total wireless speeds up to 4.2 Gbps, you get super fast, robust WiFi to your smart TVs, smartphone, and gaming consoles.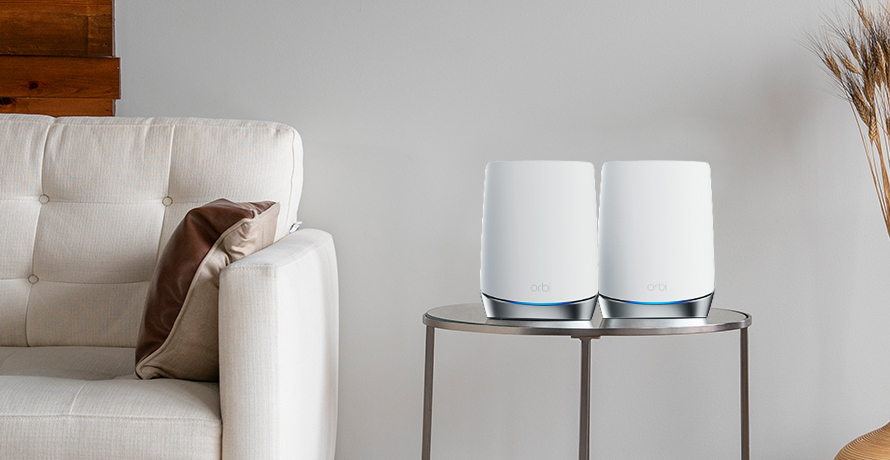 Coverage and Capacity
More capacity. More coverage.
The Orbi WiFi 6 System has 4x increased capacity and is equipped to handle 8 streams at once. Even with 40 or more devices connected to your network, you get the smoothest WiFi experience everywhere in your home.
Never Worry About WiFi Again.
More speed. More coverage. Orbi WiFi 6 uses NETGEAR's patented tri-band mesh technology with a patented dedicated backhaul to provide the ultimate smart home experience with seamless roaming.

Complete Protection from Online Threats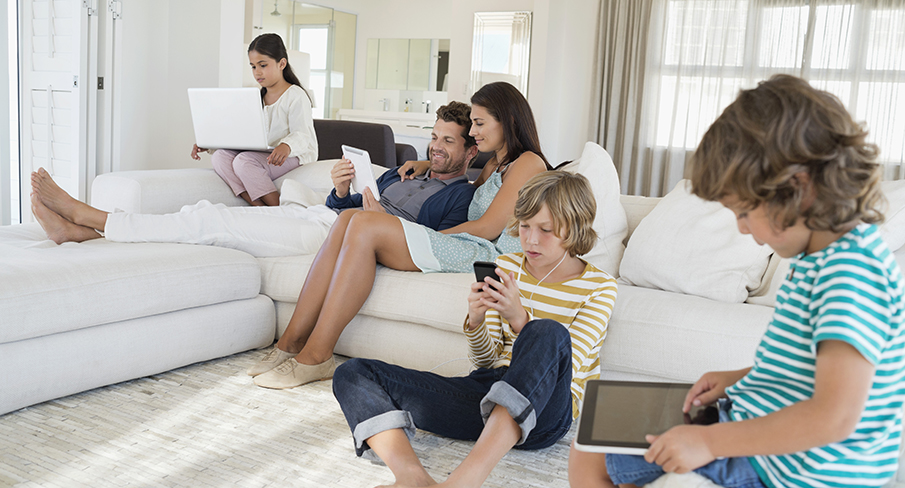 NETGEAR Armor™ protects your home from internet threats by providing best-in-class anti-virus protection for all your connected devices.
A single subscription covers all connected devices.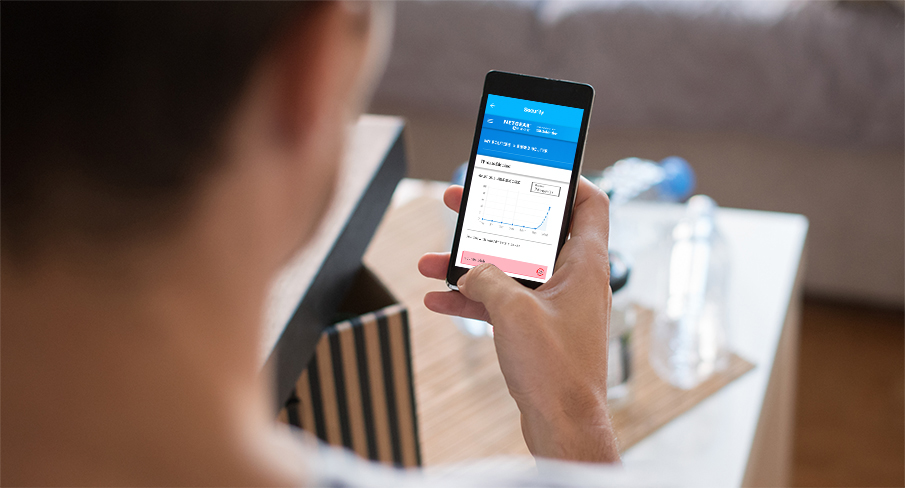 Get instant alerts to your smartphone or computer when threats are detected or blocked.
Activate Free Trial of NETGEAR Armor
Orbi App
Do more with your home's WiFi.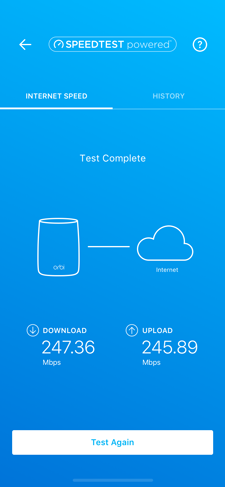 Easily set up your Orbi WiFi and monitor devices connected to your network.
Run a quick test to make sure you're getting the best internet speed from your service provider.
官方規格
What's In the Box?
• One (1) Orbi Router (RBR750)
• One (1) Orbi Satellite (RBS750)
• One (1) 2m Ethernet cable
• Two (2) 12V/2.5A power adapters
• Quick start guide
What Do I Need for Orbi to Work?
• High-speed Internet connection
• Connect to existing modem or gateway
PAGE 4 OF 4
Technical Specifications
• Orbi AX4200 Router and AX4200 Satellite
(600 + 1200 + 2400Mbps)†
• Simultaneous Tri-band WiFi
– Radio 1: IEEE®
802.11b/g/n/ax
2.4GHz—1024-QAM support
– Radio 2: IEEE®
802.11a/n/ac/ax
5GHz—1024-QAM support
– Radio 3: IEEE®
802.11a/n/ac/ax
5GHz—1024-QAM support
Physical Specifications
• Dimensions: 9.1 x 7.2 x 2.8 in each
• Weight: 1.9 lb each
Software Features
• Orbi Mobile App
• MU-MIMO capable for simultaneous data streaming
• Implicit & Explicit Beamforming for 2.4GHz &
5GHz bands
• Processor – Router & Satellite
– Powerful quad-core 1.4GHz processor
• Memory – Router
– 512MB NAND flash and 1GB RAM
• Antenna – Router & Satellite (each)
– Six (6) high-performance internal antennas with
high-power amplifiers
• Ports – Orbi Router
– Three (3) 10/100/1000Mbps Gigabit Ethernet
LAN ports
– One (1) 1Gbps Gigabit Ethernet WAN port
• Ports – Orbi Satellite
– Two (2) 10/100/1000Mbps Gigabit Ethernet
LAN ports
• Link aggregation using WAN port and a Gigabit
Ethernet port
• Security
– Comprehensive anti-virus & data theft
protection for your PC, Mac®
and mobile devices
with NETGEAR Armor™
– Standards-based WiFi Security
(802.11i, 128-bit AES encryption with PSK)
– Guest WiFi Network is easy to setup separate &
secure Internet access for guests